Disaster Time! Part II: The Canon G7
The thought process
So, my Canon A95, which was part of the Wirehead family between December 6, 2004 and June 10, 2007, with 11,800 pictures taken, was officially not repairable.
So, what was I to do? Well, because the camera gear was all repairable and film is still quite available, as is developing, I decided that it wasn't time to cash in all of the replacement value and go digital.
But I still need a single digital camera to serve as an exposure meter for night photography and with strobist lighting.
The comparable replacement for the Canon A95 is the Canon A630. And my friend Dawn has a Panasonic DMC-FZ8 and suggested I try that.
The problem is that I need a camera that can trigger strobes. Her Panasonic cannot be set to fire a single flash with no pre-flash. So that puts it out of the running. My dad has a Panasonic DMC-FZ50 superzoom camera and, besides being about the size of an SLR, I was not able to get it to trigger my strobes, not using the hotshoe, nor using the onboard flash. So it very clearly out of the running, plus an equivalently-sized digital SLR with a bigger sensor was about the same price.
I also decided not to buy a digital SLR. The way I see it, I'd either have to go out carrying at least two SLR cameras, possibly three. Or a $400 Rebel XT + Kit lens would turn into a $4000 purchase after I'd picked up enough hardware to replace all of my 35mm hardware (And mind you, my 35mm lenses range from 17mm to 210mm, plus a 2x teleconverter)
The Canon S5 IS is out and has a big zoom range, and has a flash shoe. But it's not quite available and it is kinda big.
The Nikon Coolpix P5000 has only a maximum of 8 second shutter time, which eliminates it.
Fuji has some offerings, but they are either too big or don't have options I need.
Buying the G7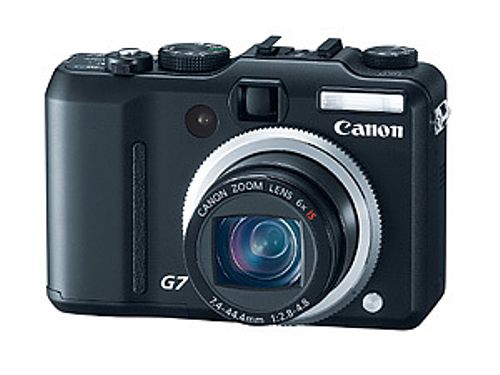 So, the Canon G7 ended up winning out simply because I knew I could get it to trigger my strobes and do what I wanted.
There's two ways you can approach the G7. You can look at the downsides. For example, the G7 puts 10 megapixels on a 1/1.8" sensor, which is too many pixels. It doesn't do RAW. The big one is that the display doesn't pop out and tilt. One should note that I'm approaching this camera from an A95, not a G6.
But I'm going to look at the bright side. The G7 is actually a pretty good camera.
All of the A-series Canons have a four way directional pad that, with one or two added buttons to activate sets of menus, comprise a bulk of the user interface for the camera. The G7 adds a wheel, which actually helps the user interface greatly. This frees the directional pad to, unless you are moving the focusing point, to serve as four extra control buttons. There are also more auxiliary buttons.
It takes some getting used to and doesn't quite come across in a dpreview specification sheet, but once you do, it's super smooth. It feels a lot faster than the A95 did. EV compensation used to require me to browse through menus, now it's a button. Couple that with the exposure-lock button and I can take a reading at +2/3 EV off of the sky and then compose my scene with that exposure reading. This is super-useful.
The time-delay functionality is especially interesting. It's right out in the directional pad at easy access instead of buried in a menu, along with the rapid-fire modes. There's the 10 second and 2 second delay options, but there's also the "Custom" delay which lets you have the delay be anything between 0 and 30 seconds and take as many as ten shots each time you press the shutter.
The built-in flash control is nice and I'm sure is even nicer if you use an E-TTL flash with it. Most cameras let you have manual flash control, but only in certain modes. And many other cameras just have flash exposure compensation. The G7 lets you select if you want automatic flash or manual flash in all but M mode. On it's own, you have 3 flash power settings (plus off) and a + / - 2 EV range with automatic flash. But if you put an E-TTL flash on the G7, you get a range from full power to 1/64 power in 1/3 stop increments. I don't have any E-TTL flashes, so I didn't use that functionality, but I do mount a Sunpak 383 Super on the hotshoe for daylight fill and that works excellently.
Also, I discovered that with my 383 super, I can get sync speeds up to 1/2000, even though the onboard flash will force you downwards to 1/500.
The display is customizable and quite nice. There's a live histogram, which is almost, but not quite, impossible to do on a digital SLR. When you view played back images, it will blink your highlights. Also, the "Review" is a button, like the high end SLRs, not a switch, so it goes right back to shooting mode when you press the shutter. Furthermore, if you hold down the "Review" button while the camera is powered down, it will power up for review but not extend the lens.
There's a built-in 3 stop neutral density filter, I'm not sure what the entire reasoning behind it was, but it's there. I suspect it is mainly for video usage.
The lack of a hand grip is a little weird, but I can see why it happened. See, the lens retracts flush against the body. The hand grip extends outwards only as far as the lens retracts. It fits a lot of camera in a small space. It doesn't bother me especially much, since my other primary cameras were all designed before cameras needed hand grips to look right. I'm sure it bothers everybody else. This also means that you have to remove the camera from a tripod mount in order to swap out batteries or memory cards... but at least the tripod mount is actually metal. I was worried with the A95 that eventually I'd fully strip the tripod mount.
There's a knob up top to set the ISO speed. I'm still undecided. I love it when I notice that the speed is at 1600 when it should be at 100. I hate it when I accidentally knock it from 100 to 1600. I almost would prefer that it be a second general purpose data wheel, a la the non-Rebel EOS cameras. I took an ID picture of a model at 1600 speed in a dark parking lot and I could still read her driver's license just fine.
Image quality is respectable. The one thing I've noticed is that Canon has really pushed their noise reduction algorithms. Sensitometry suggests that the sensor doesn't have inherently less noise than my A95, but at ISO 400 it appears better, probably on account of improved noise reduction.
The speed and shutter lag doesn't compare an SLR, but even the speed is pretty good. It can maintain a full 2 frames per second shooting rate until the memory card fills up. The shutter lag is fairly good for a P&S, nothing like the A95 was.
The facial detection seems to work OK and so does the image stabilization. There's bracketing. And there's video, even video at 1024x786.
What would I do differently? Well, I'd probably add RAW back. I'd put a bigger sensor in potentially at the cost of added size and reduced zoom range. I'd probably make it go a tad wider, again at the expense of zoom range and possibly size. But overall, it's quite a handy camera. We don't hand out awards at Wirehead Arts, but I'm kinda stuck with it till it craps out on me.